Bariatric Surgeon Hossein Bagshahi, MD
Fellow of the American Society of Metabolic and Bariatric Surgery
Certified by the American Board of Surgery
Fellowship Trained in Minimally Invasive Surgery
Fellowship Trained in Endoscopic Surgery
Fellowship Trained in Robotic-Assisted Surgery
Published in the Journal of Clinical Research
Published in the Journal of the American College of Surgeons
Fluent in English and Farsi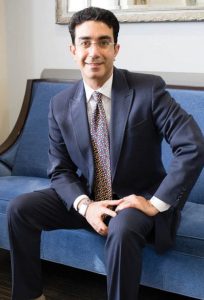 Dr. Hossein Bagshahi is fellowship-trained in bariatric and minimally invasive surgery, as well as endoscopic surgery and robotic surgery. He was trained at the University of Texas Medical School in Houston, and became board-certified by the American Board of Surgery. He also holds the prestigious distinction of FASMBS (Fellow of the American Society of Metabolic and Bariatric Surgery).
Dr. Bagshahi began his surgical internship training at The Mayo Clinic Graduate School of Medicine in Rochester, Minnesota, and went on to complete his training in general surgery at the University of Massachusetts School of Medicine in Worcester. He was selected for one of the most highly competitive Fellowships in Bariatric and Minimally Invasive Surgery in Houston. Dr. Bagshahi has broad exposure to all aspects of weight loss surgery, specializing in gastric sleeve surgery, laparoscopic gastric bypass surgery, LAP-BAND ®, LAP-BAND revision surgery, duodenal switch procedures, and minimally invasive and robotic surgery. Dr. Bagshahi is proud of his safety rating and his dedication to results. Patients who receive treatment elsewhere occasionally run into issues. While complications are uncommon, Dr. Bagshahi is one of few surgeons who has the ability to help patients who have experienced failures from previous bariatric surgery performed by another physician. He leads Bagshahi Bariatric and General Surgery with a focus on helping North Texans reshape their health and longevity through advanced surgical treatments and support.
Dr. Bagshahi's areas of interest include bariatric surgery, surgery for reflux disease, and minimally invasive surgery, providing a comprehensive suite of options for individuals considering weight loss surgery. Dr. Bagshahi aims to help obese patients suffering from comorbidities related to excessive weight gain — metabolic syndrome, type 2 diabetes, hypertension, joint pain, sleep apnea, depression, and infertility — reverse their disease processes through dieting, exercise, and other lifestyle changes.
Dr. Bagshahi is published in numerous peer-reviewed journals and textbook chapters, including the Journal of Clinical Research and the Journal of the American College of Surgeons, on topics ranging from the treatment of metabolic syndrome to robotic-assisted surgery. He is a native of the Dallas/Fort Worth area who has traveled extensively in his pursuit of excellence in the realm of bariatric and weight loss surgery. He brings his expertise back home to serve patients in Fort Worth, Dallas, Arlington, Irving, Keller, Alliance, Grapevine, South Lake, Aledo, Burleson, Mansfield, and the surrounding communities. Dr. Bagshahi also speaks fluent Farsi.
Get to Know Dr. Bagshahi
To help you get to know our bariatric and general surgeon, he has answered a few questions about his approach to treatment and his thoughts on the weight loss field. For more information or to schedule a consultation, please
contact our practice
.
What was your inspiration for becoming a bariatric surgeon?
I love that with one operation can nearly improve every organ system and reverse several significant medical conditions. Achieving these goals will lead to a longer — and improved — quality of life.
What is your favorite part about being a bariatric surgeon?
My favorite part about being a bariatric surgeon is taking a difficult situation that is often rejected by medical and surgical care, and performing an elegant minimally invasive operation to improve patients' lives. Watching them transform into happy, healthy people with a new lease on life, and hearing the wonderful new things they're experiencing.
What sets you apart from other weight loss surgeons?
Everyday, we strive to operate as a small office despite being one of the busiest bariatric practices anywhere. Each patient is treated like they are the only patient. We always put the patient's interests first, and that often results in good outcomes. We have good patient outcomes because every person is thoroughly evaluated and prepared for surgery. We pride ourselves on our low complication rates, but it would be foolish to think you will never have any. I always joke that I can't promise zero complications, but I promise to care for you the best that I can, in the rare event that one should occur.
Do you have a favorite weight loss surgical or non-surgical technique?
Bariatric surgery is always evolving and there are moments of evolution and revolution that are all intended to improve our patients' lives. There is not one "best" bariatric procedure. A good weight loss surgeon should be able to perform and have experience with all modern bariatric surgeries, but a great bariatric surgeon will guide their patient to the operation best suited for their needs.
What are you most excited about in regard to the future of bariatric surgery?
The future of bariatric surgery is acceptance by society and the medical establishment as an early treatment for severe obesity — NOT as a last resort option or "the easy way out!" We have to change the narrative and stop "obesity bias."
In the News
As a leader in the field of bariatric and general surgery, Dr. Bagshahi has been recognized for his efforts to improve patient health and vitality. A selection of his appearances is included below. For more information or to schedule an interview, please contact our practice.
View Article