Bariatric Surgeon
Meet Hossein Bagshahi, MD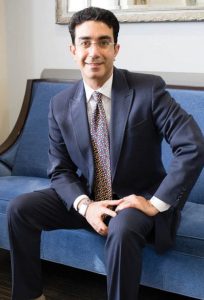 Dr. Hossein Bagshahi is fellowship-trained in bariatric and minimally invasive surgery as well as endoscopic surgery and robotic surgery from the University of Texas Medical School in Houston, and board-certified by the American Board of Surgery. He also holds the prestigious distinction of FASMBS (Fellow of the American Society of Metabolic and Bariatric Surgery).
Dr. Bagshahi began his surgical internship training at The Mayo Clinic Graduate School of Medicine in Rochester, Minn., and went on to complete his training in general surgery at the University of Massachusetts School of Medicine in Worcester. He was selected for one of the most highly competitive Fellowships in Bariatric and Minimally Invasive Surgery in Houston. Dr. Bagshahi has broad exposure to all aspects of weight loss surgery, specializing in gastric sleeve surgery, laparoscopic gastric bypass surgery, LAP-BAND®, LAP-BAND revision surgery, duodenal switch procedures, and minimally invasive and robotic surgery. Dr. Bagshahi is proud of his safety rating and his dedication to results. Patients who receive treatment elsewhere occasionally run into issues. While complications are uncommon, Dr. Bagshahi is one of a few surgeons who has the ability to help patients who have experienced failures from previous bariatric surgery performed by another physician. He leads Bagshahi Bariatric and General Surgery with a focus on helping North Texans reshape their health and longevity through advanced surgical treatments and support.
Dr. Bagshahi's areas of interest include bariatric surgery, surgery for reflux disease, and minimally invasive surgery, and providing a comprehensive suite of options to individuals considering weight loss surgery. Dr. Bagshahi aims to help obese patients suffering from comorbidities related to excessive weight gain — metabolic syndrome, type 2 diabetes, hypertension, joint pain, sleep apnea, depression, and infertility — reverse their disease processes through diet, exercise, and other lifestyle changes.
Dr. Bagshahi is published in numerous peer-reviewed journals and textbook chapters, including the Journal of Clinical Research and the Journal of the American College of Surgeons, on topics ranging from the treatment of metabolic syndrome to robotic assisted surgery. He is a native of the Dallas/Fort Worth area who has traveled extensively in his pursuit of excellence in the realm of bariatric and weight loss surgery. He brings his expertise back home to serve patients in Fort Worth, Dallas, Arlington, Irving, Keller, Alliance, Grapevine, South Lake, Aledo, Burleson, Mansfield, and the surrounding communities. Dr. Bagshahi also speaks fluent Farsi.


In the News
As a leader in the field of bariatric and general surgery, Dr. Bagshahi has been recognized for his efforts to improve patient health and vitality. A selection of his appearances is included below. For more information or to schedule an interview, please contact our practice.