Weight Loss Surgery Financing and Insurance
Bagshahi Bariatric and General Surgery accepts a wide range of insurance plans and offers financing and self-pay options. We believe in making it as easy as possible for our patients to allow them to concentrate on their treatment and to regain good health rather than focusing on the costs of surgery and living with obesity. Our board-certified weight loss surgeon and skilled medical team can offering more help in person, simply give us a call for details.
Insurance
It is our goal to help you find your way forward and navigate the often-complex process of having bariatric surgery. As part of our commitment to patient care, we will submit paperwork on your behalf and assist you in understanding the requirements and guidelines requested by your insurance policy for coverage. While we do not work with Medicaid, we do accept most forms of medical insurance and will be able to help you become well-informed about every step of the process, from start to finish. Your questions are always welcome, so please don't hesitate to ask.
Financing
We work with several reputable lending companies that offer appealing rates for qualified applicants. These companies are dedicated to providing personal loans for people seeking medical treatments and other common costs not covered by insurance. For more information, please follow the links below or ask for details during your initial consultation.
CareCredit®
One of the most popular medical credit lenders, CareCredit offers approved applicants short- and long-term options with low rates with low- or no-interest. Dedicated to exclusively offering medical, dental, and veterinary loans, patients can feel confident relying on a company that has been helping people for over 30 years. If interested, you can apply online and receive an answer nearly instantly.

United Medical Credit®
Also dedicated exclusively to medical and dental lending, United Medical Credit offers a wide range of choices in rates and terms to best suit patients from all backgrounds and needs. Completing an application is quick, simple, and can be completed online in just a few minutes. Get all the details on the website, or ask our team for additional information.
Prosper® Healthcare
Prosper Healthcare Lending is the premier financing company in the healthcare industry.  With over $5 Billion borrowed and over 250,000 people empowered, this is a name and a program you can trust.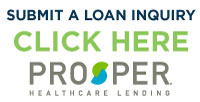 Here are some of the benefits you'll receive with a loan from Prosper Healthcare Lending:
Immediate decisions without affecting your credit!
Longer terms for lower monthly payments
No collateral required
No prepayment penalties
Fast & easy loan inquiry process
100% Confidential