Obalon® Balloon For Non-Surgical Weight Loss
Advances in weight loss surgery have made it possible to provide more solutions for a wider range of patients and not all methods of weight loss necessarily require a surgical procedure. That said, top bariatric surgeon Hossein Bagshahi, MD feels our surgical weight loss options most often result in better long-term outcomes for patients. At our Fort Worth practice, we offer several solutions to help individuals take control of their health and quality of life. Although Dr. Bagshahi doesn't recommend the Obalon® Balloon System at this time, he is committed to helping you identify the safest and most effective procedure to achieve your weight loss goals. He would be happy to personally discuss the limitations of the Obalon® Balloon System and go over all of your possible treatment options in a consultation.
What Is the Obalon® Weight Loss Balloon System?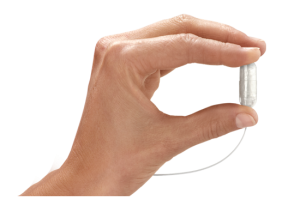 Obalon is the first and only swallowable, FDA-approved balloon system for medical weight loss. The Obalon® Balloon System helps facilitate weight loss by taking up space in your stomach, so you eat less. Three balloons are placed for a six-month non-surgical treatment, combined with a professionally supervised nutrition and exercise program for optimal weight loss. Patients in the clinical study lost twice as much weight as with diet and exercise alone. During treatment you should receive professional nutrition and exercise support to help you make the lifestyle changes that promote weight loss. Obalon® supports you to help change your eating habits and keep the weight off for the long term.
What Are the Benefits of the Obalon® Balloon System?
In addition to being a non-surgical option, Obalon offers numerous benefits, including:
Approved by the FDA
Comes in a swallowable capsule
Requires no anesthesia during placement
Treatment is fully reversible
Helps jumpstart long-term weight loss
Who Can Get The Obalon® Balloon System?
Treatment with the Obalon® Balloon System is considered an alternative to weight loss surgery for patients who do not want to undergo a surgical procedure, and who have a body mass index (BMI) of 30 to 40 kg/m². This translates to approximately 30 to 100 pounds above a normal weight range for an individual's height. The Obalon® Balloon technique also requires that patients are at least 22 years old. Like all weight loss treatments, it's very important that you're willing to commit to certain lifestyle changes after your appointment, such as following a healthy dieting plan and exercise regimen.
What Happens During The Obalon® Procedure?
The placement of each Obalon® Balloon typically takes less than 10 minutes and the procedure doesn't require sedation. You will swallow a capsule containing a small balloon, after which the doctor begins to inflate it.
After six months, all three balloons are removed in one procedure utilizing general anesthesia and a breathing tube for improved safety. The removal procedure is typically no longer than 15 minutes.
Is There Recovery After The Obalon® Procedure?
There is typically no downtime after the balloon placement procedure and patients can resume normal activities right away. You will need to avoid stomach-irritating medications while the balloons are placed, including non-steroidal anti-inflammatory drugs (NSAIDs) like Motrin® or Advil®. The balloons are not designed for patients who live at altitudes higher than 4,000 feet or lower than 2,500 feet where the balloons are placed. 
What Results Can I Expect From The Obalon® Balloon System?
Your doctor and weight loss team will work with you to establish healthier habits in regard to your food choices, portion control, and frequency of exercise. Since the balloons are designed to take up space in the stomach, you can expect to not consume as much food as you did previously. Follow-up visits will be scheduled to monitor your progress and help us support your weight loss journey. In clinical studies, the Obalon® system was shown to achieve twice as much weight loss when paired with a physician-supervised nutritional program than traditional dieting and exercise alone.
Does The Obalon® Balloon System Have Side Effects?
While patients typically have a good experience using Obalon®, some side effects may occur. If you note a loss of fullness, sudden increase in hunger, or increase in weight, you should discuss these symptoms with Dr. Bagshahi, as it may indicate balloon deflation. Some patients may have some abdominal pain, nausea, vomiting, or a sensation of balloon movement initially. These effects often fade within a few days, although balloon sensation may be more pronounced if a single balloon is placed. Gas, belching, and bloating are also sometimes reported.
How Much Does The Obalon® Balloon System Cost?
The total price of the Obalon® Balloon System will depend on your treatment plan and unique needs. In general, the national average cost for Obalon runs between $6,000 and $9,000. This number includes three balloons, placement, removal, and accompanying diet and exercise support. With all procedures, Dr. Bagshahi and our medical team will review the full cost of your treatment, which may be covered by your medical insurance. We also work with bariatric surgery financing agencies should you choose to pay out of pocket.
Is the Obalon® Balloon System Safe?
In clinical studies, serious side effects associated with Obalon® were reported in less than 0.3 percent of individuals who received treatment. For any surgical or medical weight loss procedure, the most effective way to maximize your safety is to ensure you're under the care of a highly experienced bariatric surgeon. 
With Dr. Bagshahi's extensive credentials — which include board certification and his distinction as a Fellow of the American Society of Metabolic and Bariatric Surgery — Dr. Bagshahi can help you find an alternative to the Obalon® Balloon System. He has been fellowship-trained in minimally invasive weight loss techniques and can help you determine the most beneficial treatment plan for your unique needs. 
Are There Alternatives to the Obalon® Balloon System?
The Obalon® Balloon System may not be the best weight loss solution for every patient. Fortunately, Dr. Bagshahi offers another non-surgical treatment option for individuals who are seeking a minimally invasive alternative to bariatric surgery. Like the Obalon® Balloon, the ORBERA® intragastric balloon is a FDA-approved device designed to facilitate weight loss by managing hunger and promoting portion control. A healthy dieting and exercise plan follows placement of the balloon, and the device is removed six months after insertion during an in-office procedure. Similarly, ORBERA® is also suitable for individuals who have a BMI of 30 to 40 kg/m². 
That said, the two treatments differ in their method of balloon placement; the ORBERA® balloon is inserted into the stomach via an endoscope (a thin tube with a tiny light and camera on the end) while the Obalon® Balloon System involves a swallowable weight loss device. Both can achieve weight loss through similar techniques, but patients may be better candidates for one balloon system versus the other. 
Who Should Not Undergo Treatment With the Obalon® Balloon System?
As part of the consultation process, your doctor should thoroughly review your medical history to determine whether the Obalon® Balloon System is an appropriate weight loss option for your needs. You may not benefit from treatment with Obalon® if you:
May have difficulty swallowing the Obalon® capsules
Regularly take anti-inflammatory drugs that may irritate the stomach
Have IBS, Crohn's disease, or other conditions affecting the bowels
Are pregnant or nursing
Have untreated drug or alcohol dependency issues
Have been diagnosed with an eating disorder, such as bulimia or binge eating disorder
These conditions can cause complications while the balloons are in the stomach or during the removal process. If you do not wish to undergo weight loss surgery, Dr. Bagshahi can suggest another minimally invasive or non-surgical treatment to help you achieve your weight loss goals. 
Additional Obalon® Balloon Faqs
Is The Obalon® Balloon Covered By Insurance?
While the Obalon® Balloon System is not usually covered by medical insurance, several practices accept financing plans from some of the most reputable healthcare lending companies in the country, such as CareCredit®, Prosper® Healthcare Lending, and United Medical® Credit. After gaining approval through the simple application process, each of these financial institutions offers low- to no-interest payment plans that can make it more affordable for you to manage out-of-pocket costs. Please don't hesitate to call our office if you would like to learn more about our financing options.
How Big Are The Balloons? Will They Stretch My Stomach?
When fully inflated, each Obalon® balloon has a volume of 250 cc and weighs approximately three grams. This equates to roughly the size of a small orange with a weight of less than a penny. When all three balloons are placed in the stomach, their combined volume is about 750 cc.
Do I Have To Follow A Special Diet Or Exercise Program After Placement Of An Obalon® Balloon?
Yes, committing to a physician-supervised nutrition and exercise program is key to long-lasting weight loss success. The goal of the Obalon® system is to develop new, healthy lifestyle skills that you can maintain even after the six-month treatment ends. That said, your short- and long-term results will ultimately depend on your readiness to adopt a healthier lifestyle.
Will I Have Any Restrictions Once The Balloons Are Placed?
Other than avoiding NSAIDs and other stomach-provoking medications, there should be no major activity restrictions while the balloons are placed. Your doctor should give you more information about what to expect with the Obalon® system when they treat you in person.
How Are The Balloons Removed?
The Obalon® balloons are removed during a mild endoscopic procedure. This typically does not last more than 15 minutes and you will be able to return home on the same day as your appointment. Depending on whether general anesthesia or conscious sedation is utilized during the removal procedure, you may or may not need to enlist someone to take you to and from your appointment.
Ready to learn more about your weight loss options? Contact Dr. Bagshahi to schedule a consultation and find out if this method can help you become healthier without surgery.