Skillet Frittatas 3 Ways Make the Holidays Even Tastier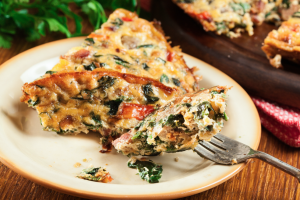 The holidays can be a difficult time for people to keep weight off, especially bariatric patients who need to be careful about which foods they consume. To reduce your stress and improve the quality of your meals, Dr. Hossein Bagshahi, our extensively trained weight loss surgeon, has provided a simple, quick, and delicious option for you to try: Southwestern frittatas.
Southwestern Spinach and Red Pepper Frittata
1 small onion, diced
1 red bell pepper, diced
4 strips turkey bacon, diced
½ tsp salt
½ tsp pepper
1 cup spinach, loosely packed and chopped
8 large eggs
2 oz. shredded parmesan cheese
1. Preheat oven to 375 F.
2. Heat up an ovenproof skillet over medium-high heat.
3. Sauté the onion, bell pepper, and turkey bacon until the onions become translucent and the bacon starts to get crispy. Add salt and pepper to taste and stir to combine.
4. Stir in the spinach and allow to cook for up to one minute, or until the spinach begins to wilt.
5. In a separate bowl, whisk the eggs to combine and then pour into the skillet, making sure the eggs cover the entire pan.
6. Sprinkle parmesan cheese on top and place the skillet in the oven for 8-10 minutes, or until the eggs are set.
7. Remove frittata from the oven and allow to cool slightly before serving.
This recipe yields six servings, so be sure and split up the total into manageable meals before beginning to minimize the risk of overeating. Each serving offers 13 grams of protein, six grams of carbohydrates, and nine grams of fat. Go slowly, take breaks to enjoy conversation with others, and listen to your body to determine when you're full.
Frittatas are versatile dishes that can be customized to your individual taste and provide a hefty dose of filling protein. Feel free to switch out the add-in ingredients to make the dish special and new each time you try it. Up the Southwestern flair with cilantro, green bell pepper, and light queso fresco cheese. You can also try a version with mushrooms, yellow squash, and mozzarella. Just remember to portion out your meal to avoid overindulgence. You can find more recipes like this one on our site and at www.foodcoach.me
Have additional questions about how to keep your holidays healthy and happy? We can provide more meal tips, recipes, and weight loss support when you need it most. Contact us today to learn more.
Previous Post
Next Post