Summer Popsicle Recipes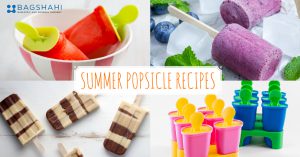 Stay hydrated and conquer those cravings for something cold and sweet on a hot summer day with these easy to make popsicle recipes.  Note:  If you don't have a popsicle mold, you can use Dixie cups and craft popsicle sticks.
HYDRATING FRUIT POPSICLES (makes 8-12 pops)
INGREDIENTS:
1 small box Sugar-Free Jell-O mix (1/3 ounce)
1 packet Unsweet Kool-Aid Drink Mix packet
2 cups boiling water
PREPARATION:
Mix the Jell-O with 2 cups boiling water and stir until dissolved.
Add 2 cups of cool water and stir
Add Kool-Aid Drink mix and stir
Poor liquid into Popsicle mold.
Place in freezer for 8 hours.
FLAVOR SUGGESTIONS:  Lime Jell-0/Cherry Kool-Aid, Peach Jell-O/Mango Kool-Aid, Strawberry Jell-O/Lemonade Kool-Aid.
PROTEIN PACKED CRÈMESICLES (4-6 popsicles)
1 Vanilla Premier Protein Shake 11oz
1 Single serve Packet Sugar Free Orange Drink Mix (Additional packet can be added for more flavor)
Mix ingredients in a blender and pour into popsicle molds. Freeze for 4 – 6 hours.
Previous Post
Next Post