Fort Worth Bariatric Surgeon Explains Potential Weight Loss Benefits of Gastric Sleeve with Duodenal Switch Procedure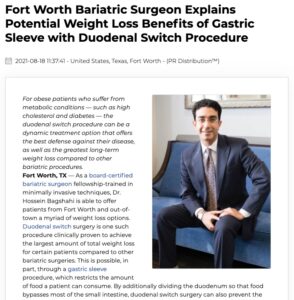 For obese patients who suffer from metabolic conditions — such as high cholesterol and diabetes — the duodenal switch procedure can be a dynamic treatment option that offers the best defense against their disease, as well as the greatest long-term weight loss compared to other bariatric procedures.
Fort Worth, TX — As a board-certified bariatric surgeon fellowship-trained in minimally invasive techniques, Dr. Hossein Bagshahi is able to offer patients from Fort Worth and out-of-town a myriad of weight loss options. Duodenal switch surgery is one such procedure clinically proven to achieve the largest amount of total weight loss for certain patients compared to other bariatric surgeries. This is possible, in part, through a gastric sleeve procedure, which restricts the amount of food a patient can consume. By additionally dividing the duodenum so that food bypasses most of the small intestine, duodenal switch surgery can also prevent the full absorption of calories and fat. Referred to as a "biliopancreatic diversion with duodenal switch," this procedure can be particularly beneficial for individuals with chronic conditions such as diabetes, hyperlipidemia, and high blood cholesterol.
Duodenal switch with a vertical sleeve gastrectomy (gastric sleeve) is often considered one of the most effective weight loss surgeries for patients who are good candidates of the procedure. During surgery, approximately 70 percent of the stomach is removed to form a cylindrical, sleeve-like tube. The new stomach pouch directly connects the esophagus to the top portion of the small intestine — the "duodenum." The duodenum is then divided and reconnected to the portion nearest the colon, bypassing most of the small intestine and creating a new pathway for food. As a result, weight loss is achieved in two ways: a patient's food intake is restricted, and the body absorbs up to 70 percent less calories and fat.
Dr. Bagshahi notes that while the procedure can be incredibly rewarding, long-term changes are required to maximize one's health after duodenal switch surgery. Since there is a reduced capacity to absorb vitamins and nutrients from food after the procedure, patients will need to commit to lifelong dietary and vitamin supplementation. Follow-up visits and a continuum of ongoing care are also necessary to lower the risk of nutrient deficiencies in the future. That said, the duodenal switch with gastric sleeve technique boasts a very high success rate and can be an optimal treatment for individuals who have a BMI over 40 and who suffer from weight-related medical conditions.
About Hossein Bagshahi, MD, FASMBS
Dr. Hossein Bagshahi is a Fort Worth-based bariatric surgeon who is board-certified and fellowship-trained in minimally invasive, endoscopic, and robotic-assisted weight loss surgery. In addition to his role as the founder and lead clinician at Bagshahi Bariatric and General Surgery, Dr. Bagshahi is a Fellow of the American Society of Metabolic and Bariatric Surgery (ASMBS). He frequently performs research on innovations in weight loss surgery and publishes his findings in peer-reviewed academic journals, including the Journal of Clinical Research and the Journal of the American College of Surgeons. At his practice, Dr. Bagshahi provides a broad range of weight loss solutions to help patients reshape their life and health, including gastric bypass surgery, LAP-BAND® procedures, and revision bariatric surgery, among other options. Dr. Bagshahi is available for interview upon request.
For more information about Dr. Bagshahi and his practice, please visit dfwweightlosssurgery.com or facebook.com/bagshahibariatric.
Contact:
Bagshahi Bariatric and General Surgery
1101 W Rosedale ST, Suite #1 (or Unit A)
Fort Worth, TX 76104
Rosemont Media
(800) 491-8623
www.rosemontmedia.com
Previous Post
Next Post