Obesity vs Bariatric Surgery: Which Is More Dangerous?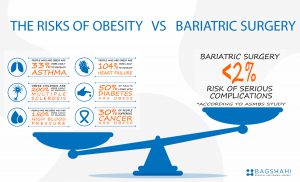 Although the average person may think of surgery as inherently dangerous, the truth is that having potentially invasive procedures is less dangerous than living with obesity. In fact, morbidly obese patients who have bariatric surgery are 89% less likely to die than from obesity-related health problems than morbidly obese individuals who elect to not have surgery. There are many reasons that obesity is one of the most dangerous conditions the body can be in. Here are just a few reasons that you should consider a bariatric surgical process rather than remain obese.
What Obesity Leads To
Obesity is linked to breast cancer, colon cancer, stroke, heart disease and type 2 diabetes, among many other debilitating and even fatal conditions. Even if obesity does not immediately lead to any physical harm, quality of life is always reduced.
Obesity is often linked directly to a loss of energy, sexual proclivity, interest in activities and the ability to maintain an active lifestyle. People who are obese are often viewed as less attractive, and their social life suffers as well. Obesity often leads to depression because of the loss of movement and social acceptance.
The Truth About Bariatric Surgery
The truth is that bariatric surgery procedures have increased from 13,000 in 1998 to 228,000 procedures done just two decades later. The American Society of Metabolic and Bariatric Surgery has continued to add different procedures to its "generally accepted" list, meaning that they have been tested and found safe for weight loss.
Bariatric surgery also appears to be the most effective option for weight loss in people who are looking to lose weight. Normal diet and exercise positively affect only five percent of the population, according to a study by Johnson and Johnson.
The respected journal Medical News Today recently reported that bariatric surgery beats this five percent mark many times over when it comes to the general effectiveness of surgery for weight loss. Although there are some risks associated with surgery, the positives far outweigh the negatives.
Bariatric surgery is now associated with a significant decrease in premature death over a five year period as opposed to people over the same period who did not undergo surgery.
Previous Post
Next Post