How Can Weight Loss Surgery Be Minimally Invasive?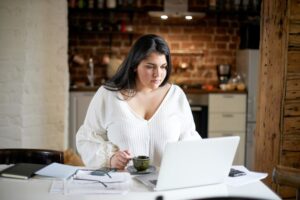 While the journey towards achieving a healthier weight can be difficult, modern techniques have made it possible to perform bariatric surgery with less invasiveness, downtime, and complications than ever before. Dr. Hossein Bagshahi, our fellowship-trained bariatric surgeon, specializes in minimally invasive weight loss surgery and offers a range of options to help Dallas patients find the right procedure for their needs. 
In general, minimally invasive surgery is performed using special surgical instruments and a laparoscope, which refers to a lighted telescope with a camera on the end. These tools allow Dr. Bagshahi to perform your procedure through much smaller incisions than the long cut traditionally necessary with open surgery. In some cases, it may benefit patients to utilize the highly advanced robotic-assisted da Vinci® Surgical System, which uses a surgeon-controlled computer console and flexible robotic arms to perform weight loss surgery in highly precise movements. Robotic surgery can also be performed through tiny incisions, resulting in less scarring, swelling, and recovery time after the procedure. In addition to weight loss surgery, Dr. Bagshahi can also use minimally invasive techniques to treat digestive conditions, including: 
Gallbladder issues
Heartburn
Gastroesophageal reflux disorder (GERD)
Hernias
Dr. Hossein Bagshahi would be happy to meet with you and discuss how minimally invasive surgery can help you achieve your goals with less downtime than traditional techniques. Please contact our North Dallas and Fort Worth-area office to schedule a consultation today.
Previous Post
Next Post