Malabsorptive vs. Restrictive Bariatric Surgery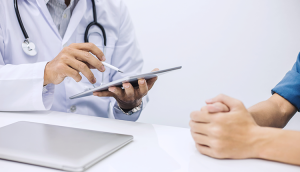 When it comes to weight loss surgery, a multitude of treatment options can help you begin and sustain a healthier lifestyle. Bariatric procedures use varying techniques to catalyze weight loss, and learning the distinctions between each type of surgery is often key to determining the most beneficial choice for your needs and goals. Most weight loss procedures fall into one of three categories: malabsorptive bariatric surgery, restrictive bariatric surgery, or a combination of both approaches. 
Malabsorptive weight loss surgery involves limiting the amount of nutrients the body can absorb by rerouting a portion of the small intestine. The portion omitted from the route that food travels is the region where vitamins, fats, and proteins are typically absorbed, thereby allowing patients to lose significant weight. Procedures that are malabsorptive include gastric bypass surgery, one of the most popular medical weight loss options available. This technique can lead to a long-term positive dietary change, but patients typically need to take nutritional supplements after surgery since the normal amount of nutrients are not absorbed by the small intestine. The duodenal switch procedure, which is designed to restrict both food intake as well as calorie and fat absorption, can also be a highly effective surgery that leads to sustainable long-term weight loss.    
In contrast, restrictive bariatric surgery achieves weight loss by reducing the size of the stomach, limiting food consumption, and helping patients feel full faster than they normally would. Weight loss techniques that are restrictive include gastric sleeve surgery, which removes about 80 percent of the stomach, and the minimally invasive LAP-BAND® surgery—one of the only bariatric treatment options that is reversible if necessary. Our compassionate and highly skilled Fort Worth weight loss surgeon, Hossein Bagshahi, MD, FASMBS, can work with you to determine the most appropriate technique for your needs. Please don't hesitate to contact Bagshahi Bariatric & General Surgery to schedule a consultation or to learn more about our services. 
Previous Post
Next Post