Exercise after Bariatric Surgery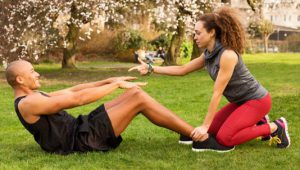 Living your best life after a bariatric surgery doesn't come easy. Patients will need to commit to a consistent bariatric exercise program, a healthy diet and lifelong vitamins and mineral supplement use to maximize the weight loss and feel great. Exercising after a weight loss surgery is recommended for achieving and maintaining weight loss as well as promote healing after surgery.
It is important to develop and maintain a consistent exercise regime after your bariatric surgery to develop your muscles, improve your mood, strengthen your bones and heart, control blood sugar, relieve stress, increase metabolic rates and burn calories.
Exercising also plays an important role in ensuring that bariatric surgery patients achieve their long-term goal of losing weight, and maintenance after reaching their goal weight through a healthy lifestyle. Patients will need to work closely with their bariatric surgeon to develop a workout program that addresses his/her unique needs. They will need to take into consideration the patient's ability, weight loss goals, healthy active lifestyle and personal preferences.
Benefits of using an exercise regimen
Exercising after a bariatric surgery brings many benefits including:
It enhances your confidence and self-esteem
It aids your ability to perform daily life routines and activities
It also promotes bone strength and joint stability
It helps to boost metabolism and maintain weight loss
It improves overall well-being and mental outlook
It improves skin elasticity
Exercising also helps to develop and maintain muscle tone, endurance and strength
It reduces the risk of developing some types of cancer and heart disease.
When to start exercising after bariatric surgery
It is usually recommended that by patients should engage in physical activity to help them recover faster. What physical activity does is to help promote wound or scar healing, improve circulation and bowel function and reduce any risks of blood clots.
A bariatric surgery patient can begin taking several short walks each day after surgery. Take short strolls around the house and maybe even use the stairs. For those that went through a laparoscopic surgery, it is possible to begin returning to all your regular activities and routines after about two to four weeks and it could take up to three months for an open surgery bariatric patient.
Walking on a regular basis to increase physical activity level is advised and the length should be increased as the patient feels able. However, any strenuous activity or one that involves lifting of weights are generally discouraged for six weeks after surgery.
Type of exercise to do after a bariatric surgery
If you work closely with a bariatric surgeon and fitness trainer, a personalized exercise plan will most likely be developed for you. The exercise plan will start gradually from low to moderate amounts of physical exercises and will be increased gradually.
These exercises should be strenuous enough to raise your heart rate. As time goes by, you should begin to add exercises to your regimen that improve your flexibility, strength and endurance. It's advisable that you include low impact exercises such as cycling, swimming, and walking.
Length of exercise
Adult bariatric patients are generally advised to ensure that they are active daily. Exercise time should be an average of 30 to 45 minutes a day and can be done in 15-minute durations throughout the day. Check with your surgeon to ensure your exercise regimen is appropriate for your post-surgery level.
Previous Post
Next Post